What Do You Think Happened?
The histories we can tell depend upon the sources that survive. The same event might look quite different when pieced together from official sources -- or from more personal sources like Martha Ballard's diary.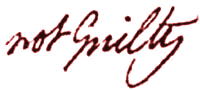 This section of DoHistory will allow you to piece together the remarkable and chilling story of the rape of Rebecca Foster, the young minister's wife, by Joseph North, a local judge. As is the case in the 20th century, most 18th century rape cases were kept quiet. This one, however, made it to court. So we have the official court, church, and town records of what happened. But we also have the story as Martha recorded it in her diary.
What do you think happened? You can investigate both sides of the story...

"Indictment of Joseph North for assault. Pleads not guilty."

(from the records of the Supreme Judicial Court)

"mr Savage here, informs that mrs Foster has Sworn a Rape on a number of men amonge whome is Judge North. Shocking indeed!"

(from Martha Ballard's diary, October 1, 1789)